Featured Project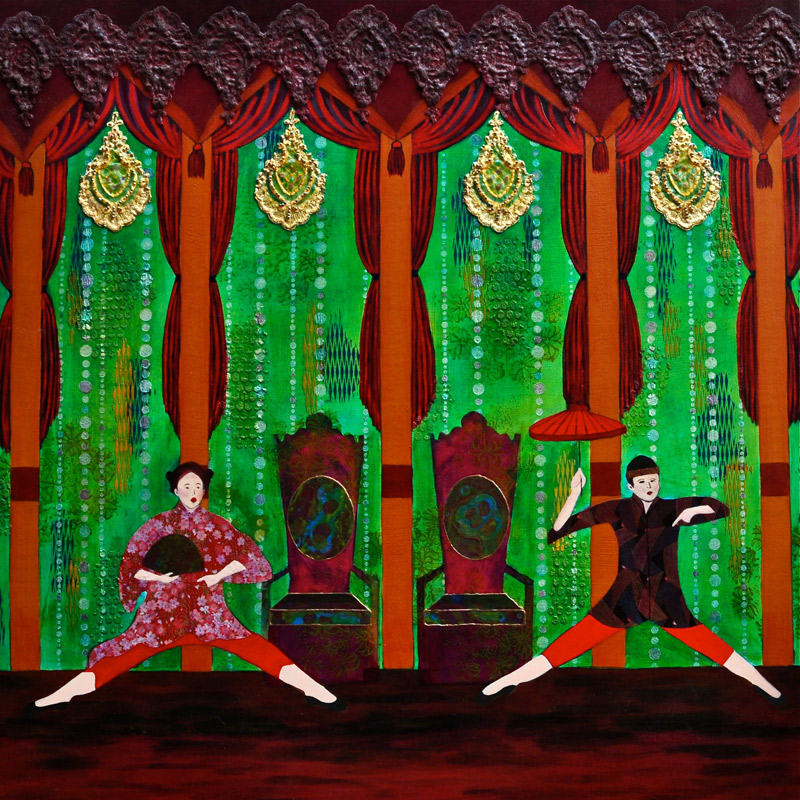 'Nutcracker - Chinese Dancers' - Acrylic Mixed Media on Birch Board 36"x36"

'Art on 9th'
1213 - 9th Avenue SE, Calgary
November 9th, 2017 through January 7th, 2018.
The Festive Season (November/December) Collection at 'Art on 9th' is a collaboration of nine artists, and...for me, provides the perfect opportunity to debut my treasured 'Nutcracker - Chinese Dancers'.
This piece holds a lot of nostalgia for me, as attending the 'Nutcracker' ballet is a Christmas tradition in my family, and one that my adult daughters still request. We have seen it performed in many theaters, in many countries ~ yet, it never loses it's magical charm.
Being fascinated with stage set design, the Nutcracker sets typically have that old-world story-book Victorian flare, which instantly creates the most perfect festive atmosphere. I wanted to create a set in my piece that was worthy of the many extraordinary theaters and stage sets we have enjoyed this production in, over the years.
On my set, the cushions for the thrones are collaged from hand-painted paper, which I created using liquid acrylic and drops of alcohol on paper, trimming the cut-out shapes with piped-in heavy gold paint to reflect the piping of velveteen upholstery. I managed to find the most perfect Asian-design printed papers to collage the dancer's fabric-like jackets as well.
On the ceiling, I wanted to create a heaviness to cocoon the top of the stage, and - as artists do, I found the perfect means to achieve that effect. The lace from my wedding gown was exactly the right design to capture my vision. So, with scizzors in hand...I took a deep breath, and deconstructed my wedding gown (which, to be honest...has taken up far too much space in my chronically 'limited closet' realm, for far too many years) and painted that lace deep burgundy, which allowed it to become a valance, reminiscent of the heavily moulded ceilings that so many of the older theaters are still so beautifully adorned with. I also realized that by inverting the lace, and adding a bit of gold paint ~ the segments became perfect chandelliers to hang between the swagged curtains, as well. So ~ deconstructing the gown paid off in more ways than originally anticipated...and I still have yards of the beautiful stuff, to use elsewhere.
And there you have it. The inspiration towards recreating one of my family's most treasured annual traditions ~ brought to immortality in a 'still life' mid-air jump. You can almost hear the staccato notes of Tchaikovsky's 'Tea' wafting up from the dimly lit orchestra pit, nestled so cozy beneath the surface of the stage. Christmas Magic...captured in Mixed Media.
The Nutcracker is one of 15 pieces I am exhibiting in the November/December show, and because photographs can never do original artwork justice...come and check out the entire Collection...while it's on.
---
Categories